The Medicinal Chemistry Toolkit App, compatible with iOS devices and optimised for iPad, provides a suite of resources to support the day to day work of a medicinal chemist.
Search the App store for "Medicinal Chemistry Toolkit."
Functions include:
Cheng-Prusoff calculator
Dose to man calculator
Gibbs free energy to binding constant calculator
Maximum absorbable dose calculator
Potency shift due to plasma protein binding calculator
LogD vs pH curves
Attrition modeller
Drug-drug interaction modeller
Exciting new functionality recently released in v2.0 allows you to draw your own structures and provides direct feedback on the quality or drug-like nature of your compound and calculates pharmacologically relevant properties (GClogP, ligand efficiency).
The Handbook of Medicinal Chemistry
The app has been designed in collaboration with the editors of The Handbook of Medicinal Chemistry: Principles and Practice, which was published in December 2014 providing a comprehensive, everyday resource for a practicing medicinal chemist throughout the drug development process.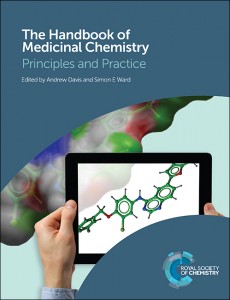 Price: £84.99 – RSC Members receive 35% discount!
Order Now.
Print ISBN: 978-1-84973-625-1
Pages:  788
Comprehensive and up-to-date information covering the entire drug development process.
Written and edited by experts from academia and industry.
Case studies with hints and tips from within the industry allow medicinal chemists to apply academic understanding to drug discovery.
Coming Soon:  interactive electronic format
The Handbook will be published online to allow greater linking to relevant resources. Per chapter download from our publication platform containing additional features, such as links to protein and chemical structures, interactive graphs and downloadable project management templates, will be available soon.
PDF eISBN: 978-1-78262-183-6
EPUB eISBN: 978-1-78262-419-6
DOI: 10.1039/9781782621836