Just published in the RSC Energy & Environment Series: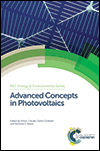 Advanced Concepts in Photovoltaics edited by Arthur J. Nozik, Gavin Conibeer and Matthew C Beard
Discusses the diverse range of materials and fabrication methods now available to take photovoltaic systems into the third generation.
 Coming soon in the Series:
 Materials Challenges: Inorganic Photovoltaic Solar Energy: edited by Stuart J C Irvine
 Oth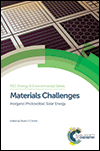 er titles in the Series:
 Biological Conversion of Biomass for Fuels and Chemicals edited by Jianzhong Sun, Shi-You Ding and Joy D Peterson
Solar Energy Conversion edited by Piotr Piotrowiak
Photoelectrochemical Water Splitting edited by Hans-Joachim Lewerenz and Laurie Peter
Solid Oxide Fuel Cells edited by Tim S. Zhao and Meng Ni
 N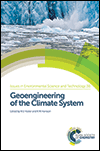 ew titles in Issues in Environmental Science & Technology edited by Roy Harrison and Ron Hester.
Just published – Geoengineering of the Climate System
 Coming soon – Fracking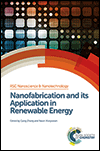 Related titles in the RSC Nanoscience & Nanotechnology Series:
 Nanofabrication and its Application in Renewable Energy edited by Gang Zhang and Navin Manjooran
 Coming soon: Hierarchical Nanostructures for Energy Devices edited by Seung H Ko and Costas P Grigoropoulos
Don't forget all these books are also included within the RSC eBook collection, which is accessible and fully searchable via the RSC Publishing Platform.
All visitors have free full access to the table of contents, preface, front matter and first chapter of every eBook with their personal RSC Publishing Account.
If you have an idea for a book or would like more information about our energy and environment titles please contact Commissioning Editor, Leanne Marle