The Royal Society of Chemistry publishes book titles across a wide range of areas, in the area of medicinal chemistry and drug discovery we have recently published the following title: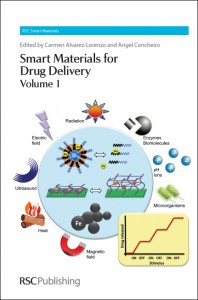 Smart Materials in Drug Discovery, published in the RSC Smart Materials Series
Edited by Angel Concheiro and Carmen Alvarez-Lorenzo.
Smart Materials for Drug Delivery brings together the recent findings in the area and provides a critical analysis of the different materials available and how they can be applied to advanced drug delivery systems.
Other forthcoming titles include:
Cara Sutton will be attending the European Association of Poisons Centres and Clinical Toxicologists (EAPCCT) Congress in Copenhagen from the 28th to the 31st May 2013.
If you have an idea for a book or you would like to find out more about the RSC Drug Discovery, Issues in Toxicology or RSC Metallobiology Series please contact the medicinal chemistry Commissioning Editor, Cara Sutton.