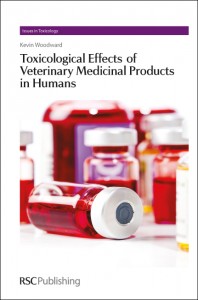 The latest book to be published in the Issues in Toxicology series is Toxicological Effects of Veterinary Medicinal Products in Humans, edited by Kevin Woodward, this text provides the first definitive guide to discuss the adverse effects of veterinary medicinal products in humans.
Examining adverse drug effects reported to regulatory agencies, including the FDA Center for Veterinary Medicine and the UK Veterinary Medicines Directorate, the chapters focus on occupational saftety and consumer issues, but also focus on circumstances in which exposure may occur and the background of adverse health effects from alternative sources in the veterinary and farming professions.
This professional reference text will provide an essential resource for medical practioners working in hospitals, poisons information centres, veterinarians, regulators and risk managers and those working in industry and academia.
Find out more here.