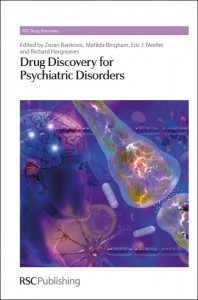 The discovery and development of drugs to treat psychiatric disorders has had a profound influence on our understanding of these disorders and their pathology. However, the medicines being used today are far from perfect, some with serious side effects and others that are only partially effective. Despite recent advances, there is still an urgent need for more effective, safe and well-tolerated treatments.
This exciting and extensive professional reference text from the RSC Drug Discovery series covers the advances, challenges and future prospects in the discovery of drugs aimed at treating major psychiatric disorders such as schizophrenia, depression, anxiety, ADHD, bipolar disorder, addiction and autism.
Drug discovery for psychiatric disorders edited by Zoran Rankovic Matilda Bingham, Eric J. Nestler and Richard Hargreaves, and written by experts from both academia and industry, will be an essential text for medicinal chemists, pharmacologists and pharmaceutical scientists specialising in the development of pharmaceuticals for psychiatric disorders.
Learn more about this fascinating and rapidly developing field here.