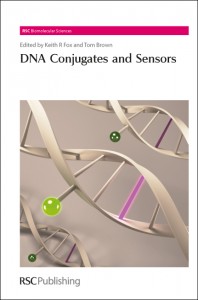 Nucleic acids have numerous biological functions and have been exploited as diagnostic tools, drug molecules, biosensors and nanostructures.  The properties and function can be further enhanced by adding conjugates such as fluorophores, small molecular and enzymes.  These attachments help to promote recognition properties, stabilise against degradation and facilitate detection.
DNA Conjugates and Sensors, recently published in the RSC Biomolecular Sciences series and edited by Keith Fox and Tom Brown describes these useful tools that have been used for disease identification and treatment and forensic applications. 
Written by leaders in the field and describing the preparation, properties and applications of DNA conjugates, this book will be of interest to a wide variety of researchers, including those working in analytical chemistry, chemical biology, medicinal chemistry, molecular pharmacology, structural and molecular biology.
Learn more about DNA conjugates here.