UCCS 2017 was held from 27th – 29th March, in Lake Arrowhead, USA. Organised entirely by graduate students and postdocs from across the University of California. UCCS Focuses on current graduate students from all fields of chemistry within the University. Analyst was proud to sponsor a poster prize for the symposium. It is clear that the future of chemistry is in safe hands.
We would like to congratulate the Analyst poster prize winner: Samuel S. Hinman. His poster was titled: DNA Linkers and Diluents for Stable and Specific Gold Nanoparticle Bioconjugates in Multiplexed Assay Development.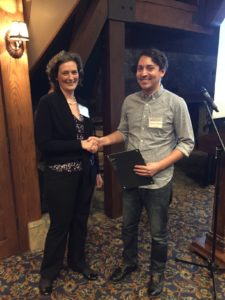 Samuel S. Hinman receiving his poster prize award from Jen Griffiths, Editorial Development Manager, Americas, Journals
Well done Samuel!