Congratulations to Editorial Board member Boris Mizaikoff and researchers at Ulm University for winning a second prize in the RSC Emerging Technologies Competition 2016.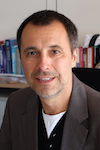 The Emerging Technologies Competition is the Royal Society of Chemistry's annual innovation initiative, turning promising ideas into commercial reality. Now in its fourth year, the competition brings cutting edge science to the real world for the benefit of society.
Entrants were required to pitch their ideas to a panel of expert judges, in front of a live audience, at Chemistry Means Business on 15 June 2016.
Professor Mizaikoff and researchers at Ulm University, were awarded second prize in the Health & Wellbeing category for their advanced infrared breath diagnostic devices.
"Ulm University is using substrate-integrated hollow waveguides to facilitate the development of label-free miniaturised breath diagnostic devices, based on mid-infrared sensing technology. This allows quantitative determination of volatile organic biomarkers in exhaled breath within minute sample volumes, with high time resolution, and with inherent molecular selectivity at trace levels."
You can read more about the winners of the competition here and also register your interest for next years competition.