We are delighted that Professor Karen Faulds (University of Strathclyde, UK) recently joined the Analyst Editorial Board.
"I am delighted and honoured to have joined Analyst as an Associate Editor and look forward to contributing in a positive way to the publishing activities of the RSC as we address inequalities and improve diversity in publishing. This is an issue I feel very passionately about and will work hard to improve during my time as an Associate Editor" says Professor Faulds.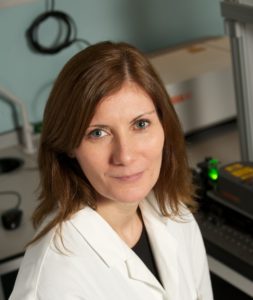 Professor Faulds' research focuses on using surface enhanced Raman scattering (SERS) to create new approaches to bioanalysis for use in the life and clinical sciences. She is a Fellow of the Royal Society of Chemistry, Strathclyde Director of the EPSRC and MRC Centre for Doctoral Training in Optical Medical Imaging, and was named as one of the Top 100 Influential Analytical Scientists (2019) by The Analytical Scientist.
Professor Faulds is looking forward to handling submissions in the areas of spectroscopy, analytical nanoscience, bioanalytical sensors, and biomedical analysis and diagnostics.
Professor Faulds has looked back at SERS papers published in Analyst over the last few years, and highlighted some of the most exciting and outstanding contributions for her Editor's Choice collection below. She adds that "it was very challenging to select this collection of representative articles due to the high number of excellent SERS articles published in Analyst. I hope you enjoy reading these articles as much as I did, and that these demonstrate the breadth and depth of SERS research published in Analyst; from multiplexed bioassays to imaging to SESORS."
---
A graphene oxide/gold nanoparticle-based amplification method for SERS immunoassay of cardiac troponin I
Xiuli Fu, Yunqing Wang, Yongming Liu, Huitao Liu, Longwen Fu, Jiahui Wen, Jingwen Li, Peihai Wei and Lingxin Chen
Paper, from our Bioanalytical Sensors themed collection
Analyst, 2019, 144, 1582-1589
Protein corona-resistant SERS tags for live cell detection of integrin receptors
Sian Sloan-Dennison, MaKenzie R. Bevins, Brian T. Scarpitti, Victoria K. Sauvé and Zachary D. Schultz
Paper
Analyst, 2019, 144, 5538-5546
Rapid differentiation of Campylobacter jejuni cell wall mutants using Raman spectroscopy, SERS and mass spectrometry combined with chemometrics
Malama Chisanga, Dennis Linton, Howbeer Muhamadali, David I. Ellis, Richard L. Kimber, Aleksandr Mironov and Royston Goodacre
Paper, from our Analytical Nanoscience themed collection
Analyst, 2020, 145, 1236-1249
Highly sensitive detection of exosomes by SERS using gold nanostar@Raman reporter@nanoshell structures modified with a bivalent cholesterol-labeled DNA anchor
Ya-Fei Tian, Cui-Fang Ning, Fang He, Bin-Cheng Yin and  Bang-Ce Ye
Paper, HOT article
Analyst, 2018, 143, 4915-4922
A rapid dual-channel readout approach for sensing carbendazim with 4-aminobenzenethiol-functionalized core-shell Au@Ag nanoparticles
Kaiqiang Wang, Da-Wen Sun, Hongbin Pu and Qingyi Wei
Paper
Analyst, 2020, 145, 1801-1809
Surface enhanced Raman scattering sensor for highly sensitive and selective detection of ochratoxin A
Raymond Gillibert, Mohamed N. Triba and Marc Lamy de la Chapelle
Paper, from our Analytical Nanoscience and Bioanalytical Sensors themed collections
Analyst, 2018, 143, 339-345
Dynamic pH measurements of intracellular pathways using nano-plasmonic assemblies
Kazuki Bando, Zhiqiang Zhang, Duncan Graham, Karen Faulds, Katumasa Fujita and Satoshi Kawata
Paper, from our Analytical Nanoscience themed collection
Analyst, 2020, 145, 5768-5775
Multiplexed detection of biomarkers in lateral-flow immunoassays
Lei Huang, Shulin Tian, Wenhao Zhao, Ke Liu, Xing Ma and Jinhong Guo
Minireview
Analyst, 2020, 145, 2828-2840
PEGylated nanographene-mediated metallic nanoparticle clusters for surface enhanced Raman scattering-based biosensing
Ahmed Ali, Eun Young Hwang, Jaebum Choo and Dong Woo Lim
Paper
Analyst, 2018, 143, 2604-2615
Surface-enhanced spatially-offset Raman spectroscopy (SESORS) for detection of neurochemicals through the skull at physiologically relevant concentrations
Amber S. Moody, Taylor D. Payne, Brian A. Barth and Bhavya Sharma
Paper, from our Analytical Science in Neurochemistry themed collection
Analyst, 2020, 145, 1885-1893
Direct monitoring of light mediated hyperthermia induced within mammalian tissues using surface enhanced spatially offset Raman spectroscopy (T-SESORS)
Benjamin Gardner, Pavel Matousek and Nick Stone
Paper, Open Access
Analyst, 2019, 144, 3552-3555
Paper-based SERS analysis with smartphones as Raman spectral analyzers
Fanyu Zeng, Taotao Mou, Chengchen Zhang, Xiaoqing Huang, Bing Wang, Xing Ma and Jinhong Guo
Communication, HOT article, from our Analytical Nanoscience themed collection
Analyst, 2019, 144, 137-142
Rapid and specific duplex detection of methicillin-resistant Staphylococcus aureus genes by surface-enhanced Raman spectroscopy
Phani R. Potluri, Vinoth Kumar Rajendran, Anwar Sunna and Yuling Wang
Paper
Analyst, 2020, 145, 2789-2794
---