Congratulations to Professor Xingyu Jiang (National Center for Nanoscience and Technology) and Professor Chaoyong Yang (Xiamen University) who received awards sponsored by Analyst at the National Analytical Chemistry Conference, Wuhan, 11 – 14 May 2015, to recognise their significant contribution to the analytical sciences..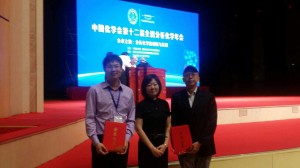 Professor Chaoyong Yang (Left) and Professor Xingyu Jiang (Right)
Professor Xingyu Jiang
Xingyu Jiang is a Professor at the National Center for NanoScience and Technology (NCNST), China. He obtained his BS at the University of Chicago (1999) and PhD at Harvard University (with Prof. George Whitesides, 2004). After a short postdoctoral fellowship with Prof. Whitesides, he returned to work in the NCNST in 2005 and has remained there since. His research interests include surface chemistry, microfluidics and nanoparticles and their applications for analytical sciences. He was a Young Investigator awardee of the Human Frontier Science Program. He was enrolled in the "Hundred Talents Plan" of the Chinese Academy of Sciences, he was awarded the National Science Foundation of China's "Distinguished Young Scholars" Award, the Scopus Young Researcher Gold Award, the Chinese Chemical Society Prize for Young Chemist. He has published over 150 peer-reviewed papers. He is an associate editor of Nanoscale (Royal Society of Chemistry, UK).
Professor Chaoyong James Yang received his B.S. (1998) and M. S. (2001) from Xiamen University, China. He studied for this PhD in the Department of Chemistry at the University of Florida from 2001 to 2006. After completing his PhD dissertation, he conducted his postdoctoral research at the University of California, Berkeley. In 2008, he became a faculty member of Xiamen University and now is the Lu Jiaxi Professor of Chemistry in the Department of Chemical Biology at Xiamen University. He won a Chinese Government Award for Outstanding Students Abroad (2005) and is the recipient of American Chemical Society DAC Graduate Fellowship in 2005, CAPA Distinguished Faculty Award in 2012 and NSFC National Outstanding Young Investigator Award in 2013. His current research is particularly focused on molecular engineering, molecular recognition, high throughput evolution, single cell analysis and microfluidics.