We are pleased to welcome Dr Prakash Chandra Mondal (Indian Institute of Technology Kanpur, India) to the Analyst Advisory Board.
---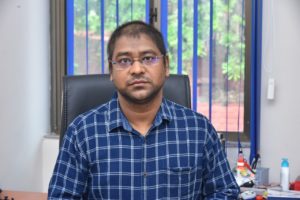 Dr. Mondal's research interests lie at the interface of chemistry, physics, and biology, creating new multifunctional molecular nanofilms that are suitable for studying charge-transport phenomena under a series of external stimuli such as solvents, electric and magnetic fields and thermal effects. He completed doctoral study on "surface chemistry of photo and electroactive metal-polypyridyl complexes" and obtained his PhD at the University of Delhi (India) in 2013.
Subsequently, he moved to the Weizmann Institute of Science (Israel) to join Professor Ron Naaman's research group for his postdoctoral work, where he studied spin-dependent electrochemical charge-transfer processes in chiral molecules embedded on ferromagnetic electrodes. In 2016, he joined Professor Richard McCreery's Group at the National Institute for Nanotechnology (Canada), focusing on carbon-based molecular electronics. He was a Marie-Curie post-doctoral fellow (November 2017–March 2019) and worked with Professor Eugenio Coronado at ICMoL, the University of Valencia (Spain) prior to joining the Department of Chemistry, Indian Institute of Technology Kanpur (India) as an Assistant Professor in April 2019.
More details about the research activity of the Mondal group can be found here.