Analyst is delighted to introduce our latest Emerging Investigator, Rebecca Whelan! You can read Dr Whelan's paper, Affinity-free enrichment and mass spectrometry analysis of the ovarian cancer biomarker CA125 (MUC16) from patient-derived ascites, and find out more about her in the interview below!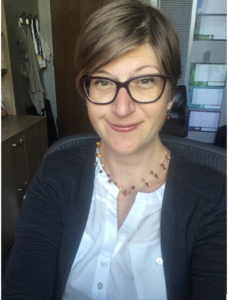 ---
Rebecca Whelan was born and raised in various small Wisconsin towns. She earned her B.A. with a double major in Chemistry and English from Lawrence University in Appleton, WI. She then moved west, joining Dick Zare's lab at Stanford University for graduate work. Her focus there was the development of biosensor detectors for capillary electrophoresis (CE) separations. CE separations and affinity recognition remained core themes during her postdoc with Bob Kennedy at the University of Michigan and the start of her independent career at Oberlin College. Rebecca established a vigorous bioanalytical chemistry research program centered on undergraduate scholars at Oberlin and remained there for 14 years. She was excited to have the chance to relocate to the University of Notre Dame in August 2018. The Whelan lab at Notre Dame works in bioanalytical chemistry, using molecular recognition, small-scale separations, and mass spectrometry to characterize and detect ovarian cancer biomarkers.
---
Your recent Emerging Investigator Series paper focuses on analysis of an ovarian cancer biomarker, using mass spectrometry. How has your research evolved from your first article to this most recent article?
Our first article on using mass spectrometry to analyse ovarian cancer biomarker CA125 (MUC16) was a method development paper, in which we showed the compatibility of suspension trapping with this large mucin protein (Anal Bioanal Chem, 2020, 412, 6361-6370). That study used two commercially available sources of CA125, one being a truncated variant expressed in CHO cells, and the other being full-length protein isolated from pooled human biofluids. The innovation in this most recent paper is analysing the CA125 isolated from the biofluids of individual ovarian cancer patients.
What aspect of your work are you most excited about at the moment?
We are excited—and humbled—by the opportunity to continue working with samples from individuals with ovarian cancer. As we apply our bottom-up proteomics analysis strategy to samples derived from a larger number of individuals, we will look both for what is shared among samples and what is unique to individuals. The possibility of breaking through the current paradigm of how CA125 is detected to find a personalized CA125 signature that is detectable by mass spectrometry is very exciting to us. Such an innovation would generate new opportunities in personalized care for this serious disease. At the same time, we will continue to push the analytical performance of our method, lowering the limit of detection and improving quantitation through targeted analysis.
In your opinion, what is the biggest advantage to using a mass spectrometry based assay, over other possible methods of analysis?
CA125 is currently detected through an immunoassay that has remain largely unchanged for decades. As with any immunoassay, what the assay really detects is an epitope, which in this case is mostly likely a discontinuous peptide sequence. Amazingly, the epitopes of CA125 have not been definitively identified (although we, and others, are actively working on that!) We wondered: what if some CA125 proteoforms in a patient's blood happen to contain fewer epitopes, or happen to present epitopes in configurations that are not detectable by the immunoassay? Such samples would be incorrectly assessed as containing less CA125 than they actually do, which could have significant clinical implications. Mass spectrometry side-steps this dependence on epitope recognition completely.
What do you find most challenging about your research?
CA125 (MUC16) is a challenging analyte. It's the second-largest protein in the human body, with a variable molecular weight of 3 to 5 MDa, depending on its glycosylation. Like many other mucin proteins, it's sticky: after all, one of its biological functions is to make mucus! In practical terms, this large size and stickiness means that if you aren't careful, the protein will adsorb irreversibly to tips and tubes while also sticking to itself. In previous work, my group used this stickiness to advantage, performing aptamer selection inside tubes to which CA125 had adsorbed (J. Nucleic Acids, 2017, Article ID 9879135, 9 pages). For quantitation, however, the stickiness poses an obstacle that must be overcome. In addition to the analyte's innate challenge, we work with a challenging sample matrix: crude human biofluid is our starting material. Any analyst who has tried to transition an assay from well-controlled conditions (commercially available analyte dissolved in buffer) to real-life samples knows that complexity and challenge abound in the real world. We firmly believe, however, that analytical researchers must strive to work within this complexity, because that it how real benefit to human health can be achieved.
At which upcoming conferences or events may our readers meet you?
Naviya Schuster-Little—the graduate student who is first author on this paper—will be presenting at Pittcon 2021 in a virtual session (Tuesday, March 9, 8:30 am – 8:50 am) and would love to hear your feedback and answer your questions! I am a devoted attendee of the Midwestern Universities Analytical Chemistry Conference (MUACC) and the Gordon Research Conference on Bioanalytical Sensors, as well as Pittcon.
How do you spend your spare time?
Music is a big part of my life. I've had several stints as a DJ on college radio stations in cities where I've lived, including Appleton, Wisconsin (WLFM) and Oberlin, Ohio (WOBC). I also love to cook (vegetarian, mostly) and go on rambles in places both familiar and unfamiliar.
Which profession would you choose if you were not a scientist?
I'm from a family of educators and can't imagine a life that does not involve teaching in some capacity. As an undergraduate, I completed an English major as well as a Chemistry major and edited my college's literary magazine. After college, I seriously considered earning a PhD in 17th century English literature (I love John Donne!) or an MFA in poetry. So maybe I would be a teacher of writing or literature.
---
If you are interested in reading other articles from the Emerging Investigator Series, you can find them here.