We're very pleased to introduce our latest Emerging Investigator, James Blakemore!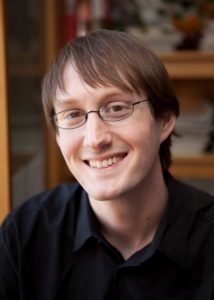 James Blakemore is an Assistant Professor in the Department of Chemistry at the University of Kansas. James was raised in Kansas, studied chemistry with Francis D'Souza at Wichita State University, and then moved to Yale University, completing his Ph.D. in Chemistry in 2012 as a student of Gary Brudvig and Robert Crabtree. Upon completing his Ph.D., James was a postdoctoral scholar at Caltech with Harry Gray. At KU since 2016, James's research focuses on use of inorganic and organometallic chemistry with the d- and f-elements to gain new insights into clean energy sources.
Read James' paper "Electrodeposition behavior of homoleptic transition metal acetonitrile complexes interrogated with piezoelectric gravimetry," and find out more about him in the interview below.
Your recent Emerging Investigator Series paper focuses on the electrodeposition behaviour of homoleptic transition metal acetonitrile complexes. How has your research evolved from your first article to this most recent article?
Our work started by examining a nominally molecular catalyst system that seemed, under some conditions, to form electrodeposited heterogeneous material. This complicates catalyst design, and so we pursued this phenomenon, with the finding that a key homoleptic acetonitrile complex was an intermediate on the path to formation of heterogeneous material. We imagined that such acetonitrile complexes might be a more general class of electrodeposition precursors, and this idea brought us to the work laid out in our new paper.
What aspect of your work are you most excited about at the moment?
I am excited about the prospect of applying the electrochemical quartz crystal microbalance to more exotic problems in inorganic chemistry. For example, electrochemical work aimed at new processing or purification routes for lanthanide and actinide elements (those from the f-block at the bottom of the periodic table) could be quite useful. The work in our new article shows how such work might be done.
In your opinion, what are the most promising applications of piezoelectric gravimetry?
It is remarkably useful for understanding complex electrochemical systems. In molecular electrochemistry, it is often straightforward to measure currents but understanding the species present in the system giving rise to those currents can be challenging to work out. Piezoelectric gravimetry allows you to study heterogeneous species that might form and/or be present initially, or rule them out. In complex situations like those often required for studies of catalysis, this is crucial information that can totally change your view of the chemistry happening in the system.
What do you find most challenging about your research?
Research in synthetic chemistry, that is, working with compounds that we prepare ourselves rather than those found naturally, is daunting. Sometimes, even if you can design a route to make a new compound, it just won't work. As my Ph.D. co-supervisor Bob Crabtree used to say, "Sometimes Nature is against us." Working with a good team, however, makes these setbacks less bitter!
How do you spend your spare time?
I enjoy running, and Kansas is a great place for it; we have many beautiful hills that are gentle on your knees! I have also recently started a new dance class, which is stimulating creativity in all aspects of my life.
Which profession would you choose if you were not a scientist?
When I was an undergraduate, I wanted to become a linguist. I suppose chemistry is a sort of language, so this might not be a surprise!
Can you share one piece of career-related advice or wisdom with other early career scientists?
One of the great pleasures for me during my time as an early-career scientist has been networking and meeting scientists from many different communities. As a postdoctoral scholar or graduate student, you may work in a narrower area, but as a faculty member, I have had the opportunity to meet a wide range of individuals with many different perspectives. I would advise early career scientists to embrace these opportunities, and the diversity of viewpoints that there are in the world. There are so many kind and supportive people to meet!