We are delighted to announce the appointment of Nicole Pamme as Associate Editor to the Analyst Editorial Board.
---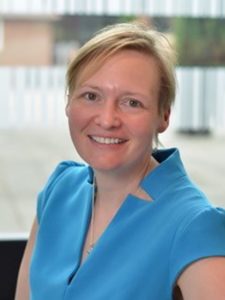 Nicole Pamme is a Professor in Analytical Chemistry in the Department of Chemistry and Biochemistry at the University of Hull. Her research activities focus on lab-on-a-chip devices for pharmaceutical, clinical and environmental analysis, biomedical research with tissue-on-a-chip devices as well as process integration and material synthesis in collaboration with Chemistry, Engineering and Biomedical Sciences. She has authored >100 peer reviewed publications, patents and book chapters in this area. Nicole studied Chemisty at University of Marburg (Germany), graduating with the title of Diplom-Chemiker, with a thesis on analytical chemistry for explosives residues in water and soil. For her PhD studies, she moved to Imperial College London (UK) where she worked under the supervision of Prof. Andreas Manz in 'Single Particle Analysis in Microfluidic Chips'. This was followed by a 2 year stay as Independent Research Fellow in the International Centre of Young Scientists (ICYS) at the National Institute for Materials (NIMS) Sciences in Tsukuba (Japan). In December 2005, she was appointed as Lecturer in Analytical Chemistry at the University of Hull in the UK and has been promoted to Senior Lecturer (2011) and Reader (2013) and finally full professor in 2014. Nicole chaired the microTAS 2016 conference in Dublin (Ireland) and serves on the Board of Directors of the Chemical and Biological Microsystems Society (CBMS), currently as Vice President. She is a Fellow of the Royal Society of Chemistry (FRSC) and a Fellow of the Higher Education Academy (FHEA).
---
We welcome Professor Nicole Pamme and her expertise to the Analyst Editorial Board as an Associate Editor.
Submit your article to Professor Nicole Pamme today!
---
Nicole has highlighted these exceptional articles recently published in Analyst, including her thoughts on the impact they are having on the community. We hope you enjoy reading all these articles listed here! 
Ambient-air ozonolysis of triglycerides in aged fingerprint residues
Stephanie Pleik, Dieter Kirsch et al.
"Dual purpose fibre – SERS pH sensing and bacterial analysis: Paper microfluidics for in vivo analysis and sample taking – a research team from Edinburgh used wax patterning of filter paper to control nanoparticle deposition required for surface-enhanced Raman spectroscopy. The small filter patches are attached to an optical fibre, that is 'bronchoscope-deployable', and can carry out not only in vivo sensing, but also capture a sample at a desire location for downstream bacterial analysis."
Electrochemical Hg2+ detection at tannic acid-gold nanoparticle modified electrodes by square wave voltammetry
Alex L. Suherman, Richard G. Compton et al.
"Environmental analysis of heavy metal pollution at fM levels – The Compton Group in Oxford have developed an electrochemical method that allows sensitive and specific analysis of mercury pollution in drinking water, at levels well below the WHO limits." 
SABRE hyperpolarization enables high-sensitivity 1H and 13C benchtop NMR spectroscopy
Peter M. Richardson, Simon B. Duckett, Meghan E. Halse et al.
"Benchtop NMR with high sensitivity – A team from the Universities of York and Strathclyde demonstrated how para-hydrogen (p-H2) based signal amplification by reversible exchange (SABRE) can be used to enhance the sensitivity of benchtop NMR measurements by factors of tens of thousands, enabling 2D NMR measurements."
Tandem fluorescence and Raman (fluoRaman) characterisation of a novel photosensitiser in colorectal cancer cell line SW480
Julia Gala de Pablo, Andrew Whiting, Stephen D. Evans et al.
"Cell imaging with multi-purpose markers – A team from the University of Leeds has synthesised a photosensitizer that is fluorescent and exhibits a strong Raman signal. This allows for imaging of cancer cells with two spectroscopic techniques and may also enable external stimulation via light to alter cell activity."
---
You can keep up to date with the latest developments from Analyst by signing up for free table of contents alerts and monthly e-newsletters.