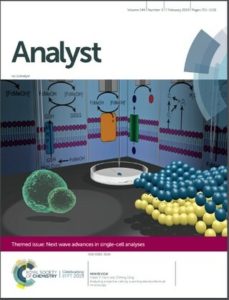 We are delighted to draw your attention to the recent Analyst themed issue highlighting work on next wave advances in single cell analyses focusing on emerging analytical advances in metabolomic, lipidomic, proteomic, and glycomic approaches – as well as high-dimensional approaches that unify multiple aspects of single-cell biology and medicine.
This collection was put together by Guest Editors Takehiko Kitamori (University of Tokyo, Japan), Amy E. Herr (University of California, Berkeley, USA), Ulf Landegren (Uppsala University, Sweden) and Masood Kamali-Moghaddam (Uppsala University, Sweden), who worked hard to create this issue and ensure that its content was of the highest quality. An Editorial by the Guest Editors prefaces the collection.
Read the full collection now: http://rsc.li/advances-in-single-cell-analyses
All papers in the collection are free to access until the end of May 2019 with an RSC Publishing Account.
We hope you enjoy reading the full collection. Take a look at a small selection of excellent articles featured in the collection below:
Critical Review
High throughput screening of complex biological samples with mass spectrometry – from bulk measurements to single cell analysis
Emily E. Kempa, Katherine A. Hollywood, Clive A. Smith and Perdita E. Barran
Minireview
Recent advances in single cell manipulation and biochemical analysis on microfluidics
Dan Gao, Feng Jin, Min Zhou and Yuyang Jiang
Minireview
Advances in mass spectrometry based single-cell metabolomics
Kyle D. Duncan, Jonas Fyrestam and Ingela Lanekoff
Paper
Gel-based cell manipulation method for isolation and genotyping of single-adherent cells
Ryo Negishi, Reito Iwata, Tsuyoshi Tanaka, David Kisailus, Yoshiaki Maeda, Tadashi Matsunaga and Tomoko Yoshino
Paper
Dual cationic–anionic profiling of metabolites in a single identified cell in a live Xenopus laevis embryo by microprobe CE-ESI-MS
Erika P. Portero and Peter Nemes
Keep up to date with Analyst throughout the year by signing up for free table of contents alerts and monthly e-newsletters.
Versatile electrochemistry approaches themed collection – Submit now
Bioanalytical tools for enabling precision medicine themed collection – Submit now
SPEC2018: International Society of Clinical Spectroscopy themed issue – Read now
Analyst Emerging Investigator Series – Apply now