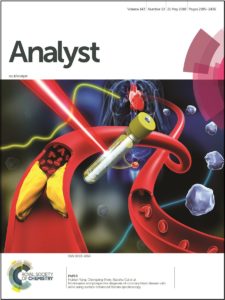 Analyst has launched a themed collection focusing on versatile electrochemical approaches for sensing, biology, and energy.
Solving pressing challenges in these fields requires the development of enabling tools and strategies that converge in fundamental concepts of analysis to address materials properties and charge transfer. In this collection, we aim to cover the broad range of cutting-edge electrochemical approaches being explored for the detection of analytes and the understanding of processes relevant to energy and biological systems. These approaches encompass nanoscale electrochemistry, rational electrode design, biomolecular analysis, and interface-sensitive methods. Accordingly, this collection will feature new electroanalytical strategies in characterising energy storage and energy harvesting systems, in biomedical diagnostics, and in measurement and imaging sciences.
Guest Editors
This collection is co-guest edited by Analyst Associate Editor Professor Damien Arrigan  (Curtin University, Australia) and Associate Professor Joaquín Rodríguez López (University of Illinois at Urbana-Champaign, USA).
Submission deadline: 30th September 2019 
Contribute to this collection
We welcome submissions of original research and review articles. Articles will be added to the collection as they are accepted and the resulting issue will benefit from extensive promotion.
About Analyst
Guided by Editor-in-Chief Duncan Graham and an international team of Associate Editors and Editorial Board members, Analyst publishes analytical and bioanalytical research that reports premier fundamental discoveries and inventions, and the applications of those discoveries, unconfined by traditional discipline barriers.
Interested in contributing?
Email analyst-rsc@rsc.org