SciX 2018, a conference featuring cutting edge developments in analytical sciences, instrumentation and unique applications, was held in Altanta, GA from October 21-26, 2018.
Award-Winning Scientists
The Analyst Emerging Investigator Lectureship 2018 recognizes an early career analytical scientist to raise the profile of the analytical sciences to the wider scientific community and general public. This year's winner was Dr Wei Min, Columbia University, USA. His current research interests focus on developing novel optical spectroscopy and microscopy technology to address biomedical problems. In particular, his group has made important contributions to the development of stimulated Raman scattering (SRS) microscopy and its broad application in biomedical imaging including bioorthogonal chemical imaging of small molecules and super-multiplex vibrational imaging.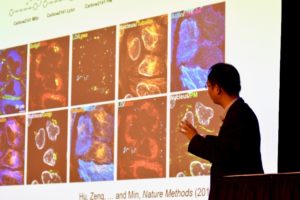 Wei Min presents his Analyst Emerging Investigator Lecture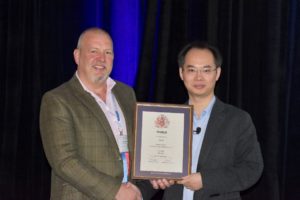 Analyst Chair Duncan Graham presents Wei Min with the Analyst Emerging Investigator Lectureship in Atlanta, USA
Wei gave a fascinating presentation during the Monday morning session, which was followed by a highly attended symposium of personally hand-picked speakers.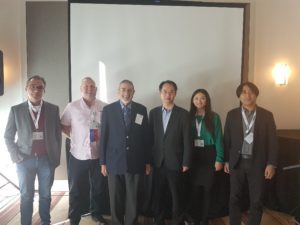 Symposium speakers: Juergen Popp, Duncan Graham, Richard Zare, Wei Min, Lingyan Shi, Katsumasa Fujita.
Congratulations Wei!
It also gives us great pleasure to announce that Analytical Methods Associate Editor Michael Roper and former Analytical Methods Editor-in-Chief Sue Lunte both received awards at SciX 2018.
Michael Roper was the recipient of the AES Mid-Career Award. After being presented with his award, Michael delivered a plenary lecture titled  "Electrophoretic Methods for Investigating Dynamic Behaviour of Pancreatic Cells".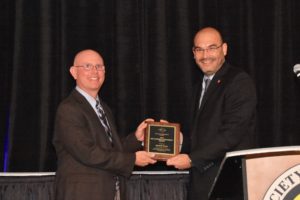 Analytical Methods Associate Editor Michael Roper (L) receives the AES Mid-Career Award.
The ANACHEM Award was awarded to Sue Lunte, who delivered her plenary lecture "Adventures in Electrically Driven Miniaturized Separations Systems for Bioanalysis" on Thursday 25th October.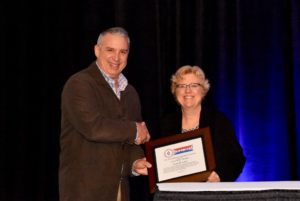 Analytical Methods former Editor-in-Chief Sue Lunte (R) is presented with the ANACHEM Award by Professor Dana Spence.
We are extremely proud of Michael and Sue. Congratulations on well-deserved awards.