Analyst has launched a themed collection to highlight bioanalytical tools for enabling precision medicine
The emphasis of this themed issue is on bioanalytical tools for enabling precision medicine. The field of healthcare continues to move from the inefficient, one-size-fits-all-patients medicine of today, toward the data-driven and personalised medicine of tomorrow. According to the Precision Medicine Initiative led by the National Institutes of Health, precision medicine is "an emerging approach for disease treatment and prevention that takes into account individual variability in genes, environment, and lifestyle for each person". In cancer, precision medicine uses specific information about the patient and their tumour to help diagnose, plan treatment, determine optimal drug levels, monitor response to therapy, and/or assess likely disease recurrence.
In this collection we aim to cover bioanalytical tools for enabling precision medicine, including imaging, spectroscopy, machine learning and miniaturised technologies on both solid tumours and liquid biopsy samples. The focus of this collection is not limited to cancer but is relevant to other diseases such as cystic fibrosis, diabetes and infectious diseases.
Guest Editors
This collection is co-guest edited by Analyst Advisory Board member Professor Steven Soper (The University of Kansas, Lawrence, USA) and Professor Andrew Godwin (Director, Molecular Oncology, The University of Kansas Medical Center, USA).
| | |
| --- | --- |
| | |
| Professor Steven Soper | Professor Andrew Godwin |
Submission deadline extended to 
30th June 2019 
Contribute to this collection
We welcome submissions of original research and review articles. Articles will be added to the collection as they are accepted and the resulting issue will benefit from extensive promotion.
About Analyst
Guided by Editor-in-Chief Duncan Graham and an international team of associate editors and editorial board members, Analyst publishes analytical and bioanalytical research that reports premier fundamental discoveries and inventions, and the applications of those discoveries, unconfined by traditional discipline barriers.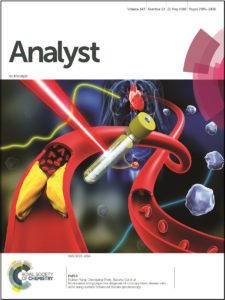 Interested in contributing?
Email analyst-rsc@rsc.org