We are delighted to announce the appointment of Professor Damien Arrigan as Associate Editor to the Analyst Editorial Board.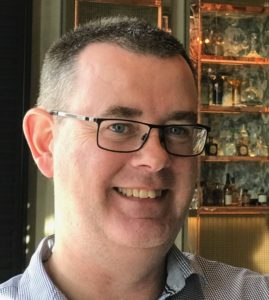 ---
Damien Arrigan is a Professor of Analytical Chemistry at Curtin University, Perth, Australia. He studied as an undergraduate at Dublin City University and, after a two-year career in industrial biotechnology, undertook his PhD (1992) at the National University of Ireland, Cork, on electroanalysis with chemically modified electrodes.
Following postdoctoral positions at the National Microelectronics Research Centre (Cork) and the University of Southampton, he was a lecturer in analytical chemistry at University of Salford. In 2001 he relocated to Tyndall National Institute, Cork, where he started to combine miniaturisation tools with electrochemistry for detection purposes and in 2009 he moved to Curtin University.
Damien's research interests encompass analytical chemistry and its boundaries with electrochemistry, especially the development of new sensing and detection methods and devices. Recent emphasis has been on exploration of the analytical opportunities afforded by electrochemistry at liquid-liquid (oil-water) interfaces, especially by miniaturisation of these interfaces for chemical and biochemical sensing. Current interests include nanopores and nanoscale electrochemistry, behaviour and detection of biological macromolecules and disease biomarkers, and the development of sensors to enhance water re-use technologies. You can find out more about Damien's research on his homepage.
---
We welcome Professor Damien Arrigan and his expertise to the Analyst Editorial Board as an Associate Editor. Submit your article to Professor Damien Arrigan today!
---
Read some of Professor Arrigan's latest research published in Analyst:
Electrochemical behaviour at a liquid-organogel microinterface array of fucoidan extracted from algae
Felisilda, B.M.B, Alvarez De Eulate, E., Stringer, D.N., Fitton, J.H. and Arrigan, D.W.M.
You can keep up to date with the latest developments from Analyst by signing up for free table of contents alerts and monthly e-newsletters.