The 66th Annual Meeting for the Society of Analytical Chemistry was held from 9th – 12th September, 2017, in Tokyo, Japan.
Analyst was honoured to sponsor poster prizes for the meeting. Our Executive Editor (Philippa Hughes) was also in attendance and presented the awards.
Analyst poster prize presentation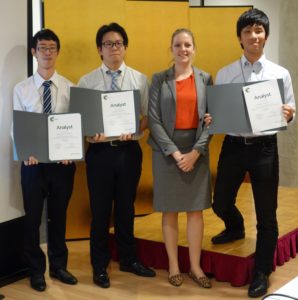 (left to right) Fukui Yoshiharu, Yoshida Kentaro, Philippa Hughes and Tenda Keisuke
List of winners:
Kohno Soshi, Tokyo Institute of Technology
Yanaga  Yohei, Kyushu University Faculty of Engineering
Yoshida Kentaro, Tokyo Science University Graduate School
Fukui Yoshiharu, Tokyo Institute of Technology
Nagashima Moeko, Tokyo Metropolitan University
Tenda Keisuke, Keio University
Yamamoto Sho, Kanazawa University Graduate School of Natural Science and Technology
Takeuchi Riko, Tokyo University of Pharmacy and Life Sciences
Kobayashi Mizuki, Tokyo University of Science
Congratulations to all of the poster prize winners!