The new themed issue for Analyst dedicated to showcasing the latest high impact research in surface-enhanced Raman scattering (SERS) is now published.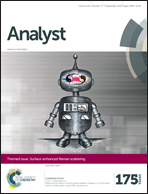 SERS has become a mature vibrational spectroscopic technique in the chemical, material, and life sciences. This themed issue, Guest Edited by Professors Duncan Graham, Bin Ren and Richard Van Duyne, highlights the recent discoveries and advances in the field of SERS.
Read their introductory editorial here.
There is also a special editorial by Pat Hendra describing the history behind the discovery of SERS. You can read the full issue here– Enjoy!
Make sure you also check out out the Chemistry World article on a paper published in this themed issue by Colin Campbell et al. on SERS nanoprobes to guide cancer radiotherapy dosing.