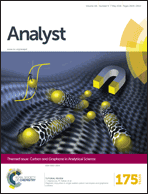 We are pleased to announce that the Analyst themed issue showcasing the latest discoveries and developments in carbon and graphene in analytical science has been published as issue 9 in Analyst.
Guest Edited by Professor Martin Pumera, Nanyang Technological University, this issue showcases the latest technology, method and application-based science among the top researchers working in both academia and industry.
Read his introductory editorial:
Carbon and Graphene in Analytical Science
Analyst, 2016, 141, 2618-2618
DOI: 10.1039/C6AN90028C
You can check out the complete issue here: rsc.li/1Nwezau
Happy reading!