You are invited to contribute to the upcoming Analyst themed issue showcasing the latest discoveries and developments in ion-mobility mass spectrometry.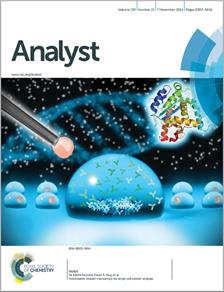 For your article to be considered for the IM-MS themed issue we must receive your manuscript by April 28th 2015.
Guest Edited by Professor Perdita Barran, The University of Manchester and Professor Brandon Ruotolo, University of Michigan, this upcoming themed issue will showcase the latest technology, method and application-based science among the top researchers working in both academia and industry.
Unconfined by traditional discipline boundaries the issue will highlight key advances in ion mobility-mass spectrometry-themed science in the areas of: chemical threat detection, new instrumentation, gas-phase ion mobility analysis/ theory, biomolecular structure, complex mixture analysis, proteomics, bioinformatics, supramolecular chemistry, polymer analysis, new ionization sources, and drug discovery/development.
Communications, full papers and review articles are welcomed, if you are interested in submitting a paper for the IMMS themed issue please contact us to let us know