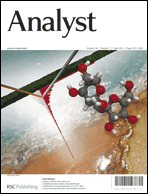 Analyst Issue 7 is now available online! Take a look at our new wonderful covers featuring the latest discoveries in the field of analytical chemistry.
Julia Laskin and her group used nanospray desorption electrospray ionization for spatial profiling of chemical gradients generated by microbial communities on plate, and detected metabolites and lipids on the colonies and the surrounding agar. This methodology, just featured on the outisde front cover of Issue 7, might facilitate future studies on interactions between bacterial colonies.
Spatially resolved analysis of glycolipids and metabolites in living Synechococcus sp. PCC 7002 using nanospray desorption electrospray ionization
Ingela Lanekoff ,  Oleg Geydebrekht ,  Grigoriy E. Pinchuk ,  Allan E. Konopka and Julia Laskin
Analyst, 2013,138, 1971-1978
DOI: 10.1039/C3AN36716A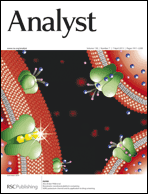 Our inside front cover shows the work of Ahu Arslan Yildiz and colleagues from the Institute of Material Research and Engineering in Singapore. The researchers analysed the human ether-à-go-go-related gene (hERG) potassium channel, which is known to be involved in inherited or drug-induced long QT syndrome. Surface Plasmon Fluorescence Spectroscopy and Imaging Surface Plasmon resonance techniques were used to investigate the interactions between hERG and the drug. According to the study, this new approach could be applied to other membrane proteins for drug screening or other prorein-related interactions.
Biomimetic membrane platform containing hERG potassium channel and its application to drug screening
Ahu Arslan Yildiz ,  CongBao Kang and Eva-Kathrin Sinner
Analyst, 2013,138, 2007-2012
DOI: 10.1039/C3AN36159D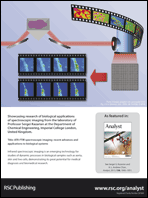 Finally, our outside back cover presents the Tutorial Review written by Sergei Kazarian and Andrew Chan from Imperial College London, who outline the most recent advances and applications of attenuated total reflection Fourier transform infrared spectroscopy imaging in biomedical studies. In addition, future developments in the area are discussed. 
ATR-FTIR spectroscopic imaging: recent advances and applications to biological systems
Sergei G. Kazarian and K. L. Andrew Chan
Analyst, 2013,138, 1940-1951
DOI: 10.1039/C3AN36865C
In addition, take a look below at our selected HOT articles of the issue. These papers will be free for you to enjoy until March 25th.
Facile formation of folic acid-modified dendrimer-stabilized gold–silver alloy nanoparticles for potential cellular computed tomography imaging applications
Hui Liu ,  Mingwu Shen ,  Jinglong Zhao ,  Jingyi Zhu ,  Tingting Xiao ,  Xueyan Cao ,  Guixiang Zhang and Xiangyang Shi
Analyst, 2013,138, 1979-1987
DOI: 10.1039/C3AN36649A
Label-free, disposable fiber-optic biosensors for DNA hybridization detection
Ming-jie Yin ,  Chuang Wu ,  Li-yang Shao ,  Wing Kin Edward Chan ,  A. Ping Zhang ,  Chao Lu and Hwa-yaw Tam
Analyst, 2013,138, 1988-1994
DOI: 10.1039/C3AN36791F
Novel switchable sensor for phosphate based on the distance-dependant fluorescence coupling of cysteine-capped cadmium sulfide quantum dots and silver nanoparticles
Guang-Li Wang ,  Huan-Jun Jiao ,  Xiao-Ying Zhu ,  Yu-Ming Dong and Zai-Jun Li
Analyst, 2013,138, 2000-2006
DOI: 10.1039/C3AN36878E