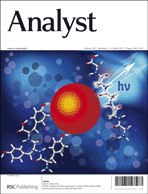 The new issue of Analyst is now available online. Take a look at our wonderful covers and discover all about the latest research behind them.
Our outside front cover shows the work of Igor Lednev and his group from the State University of New York, USA. The researchers analyse biological specimens using surface- and tip-enhanced Raman spectroscopy (SERS and TERS) and investigate the lack amide I band, commonly used as a marker for interpretation of the secondary protein structure.
Amide I vibrational mode suppression in surface (SERS) and tip (TERS) enhanced Raman spectra of protein specimens
Dmitry Kurouski ,  Thomas Postiglione ,  Tanja Deckert-Gaudig ,  Volker Deckert and Igor K. Lednev
Analyst, 2013,138, 1665-1673
DOI: 10.1039/C2AN36478F
Our interesting inside front cover showcases work from Luigi Sanguigno from the Italian Institute of Technology, who describes how fluorescence correlation spectroscopy (FCS) can be misleading in 2D systems. This study highlights the alignment issues and the effects of thermal fluctuations related to FCS in 2D systems and proposes elimination of systematic errors due to the misalignments of membranes.
Accounting for misalignments and thermal fluctuations in fluorescence correlation spectroscopy experiments on membranes
Luigi Sanguigno ,  Chiara Cosenza ,  Filippo Causa and Paolo Antonio Netti
Analyst, 2013,138, 1674-1681
DOI: 10.1039/C2AN36681A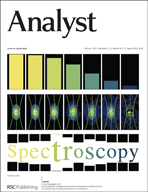 The outside back cover of this issue introduces negative mode probe electrospray ionization mass spectrometry (PESI-MS) as a tool for biomolecular analysis and cancer dignostics. Mridul Kanti Mandal and colleagues from the University of Yamanashi, Japan, analysed several combinations of solvents and probes to optmise the conditions of ionization for biomolecules such as peptides, proteins and lipids.
Biomolecular analysis and cancer diagnostics by negative mode probe electrospray ionization
Mridul Kanti Mandal ,  Subhrakanti Saha ,  Kentaro Yoshimura ,  Yasuo Shida ,  Sen Takeda ,  Hiroshi Nonami and Kenzo Hiraoka
Analyst, 2013,138, 1682-1688
DOI: 10.1039/C3AN36554A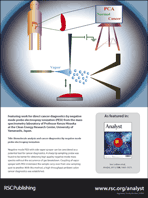 In addition, along with our new covers we also have some selected HOT articles for you to enjoy. These papers will be free to read for the next 10 days.
Take a look at Issue 6 now!
A mixed alkanethiol based immunosensor for surface plasmon field-enhanced fluorescence spectroscopy in serum
Andreas Scholten ,  Bernhard Menges ,  Martin Juebner ,  Markus A. Rothschild and Katja Bender
Analyst, 2013,138, 1705-1712
DOI: 10.1039/C3AN35657D
A Hg2+-mediated label-free fluorescent sensing strategy based on G-quadruplex formation for selective detection of glutathione and cysteine
Jingjin Zhao ,  Chunfei Chen ,  Liangliang Zhang ,  Jianhui Jiang ,  Guoli Shen and Ruqin Yu
Analyst, 2013,138, 1713-1718
DOI: 10.1039/C3AN36657J
Iodine excitation in a dielectric barrier discharge micro-plasma and its determination by optical emission spectrometry
Yong-Liang Yu ,  Shuai Dou ,  Ming-Li Chen and Jian-Hua Wang
Analyst, 2013,138, 1719-1725
DOI: 10.1039/C2AN36780G