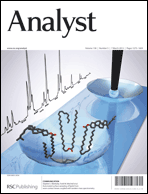 Analyst issue 5 has now gone online! Take a look at these three woderful covers and read all about the new discoveries behind them.
Featured on the outside front cover  is the recent study of Todd Mitchell and his group, from the University of Wollongong, Australia. The team describes a novel approach to identify lipids on the surface of contact lenses by using liquid extraction surface analysis coupled to tandem mass spectrometry, and shows that lipids can be extracted with limited degradation of the contact lenses in only 15 minutes.
Automated surface sampling of lipids from worn contact lenses coupled with tandem mass spectrometry
Simon H. J. Brown ,  Liam H. Huxtable ,  Mark D. P. Willcox ,  Stephen J. Blanksby and Todd W. Mitchell
Analyst, 2013,138, 1316-1320
DOI: 10.1039/C2AN36189B
Our inside front cover showcases work coming from the Republic of Korea. Taesung Kim and researchers at the Ulsan National Institute of Science and Technology introduce a surface-patterned Nafion film to induce ion concentration polarization. This method can be easily used for separation and concentration of proteins extracted from lysed bacterial cells simultaneously and continuously on a chip.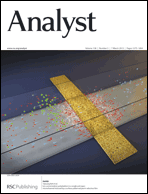 Ion concentration polarization in a single and open microchannel induced by a surface-patterned perm-selective film
Minseok Kim ,  Mingjie Jia and Taesung Kim
Analyst, 2013,138, 1370-1378
DOI: 10.1039/C2AN36346A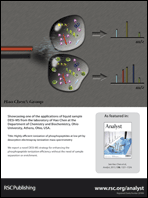 Finally, the interesting outisde back cover of this issue shows a novel strategy for efficient ionization of phosphopeptides in mixtures presented by Hao Chen and his group from the Ohio University, USA. Desorption electrospray ionization-mass spectrometry allows direct ionization of analytes without the need of sample separation or enrichment. The new method presented here would provide ionization and examination of analytes in low pH environment.
Highly efficient ionization of phosphopeptides at low pH by desorption electrospray ionization mass spectrometry
Ning Pan ,  Pengyuan Liu ,  Weidong Cui ,  Bo Tang ,  Jingmin Shi and Hao Chen
Analyst, 2013,138, 1321-1324
DOI: 10.1039/C3AN36737A