In this HOT paper Martine Largeronand co-workers at CNRS-Université Paris Descartes report the first total synthesis of S-(+)-HHMA in 45% overall yield (six steps) and 99% ee. Along with their previously reported method for making R-(−)-HHMA, Largeron et al. go on to prepare large amounts of optically active thioether conjugates viaa straightforward one-pot electrochemical procedure. This new availability of optically active thioether conjugates allows future studies into their exact role in the neurotoxic effects of MDMA to be carried out.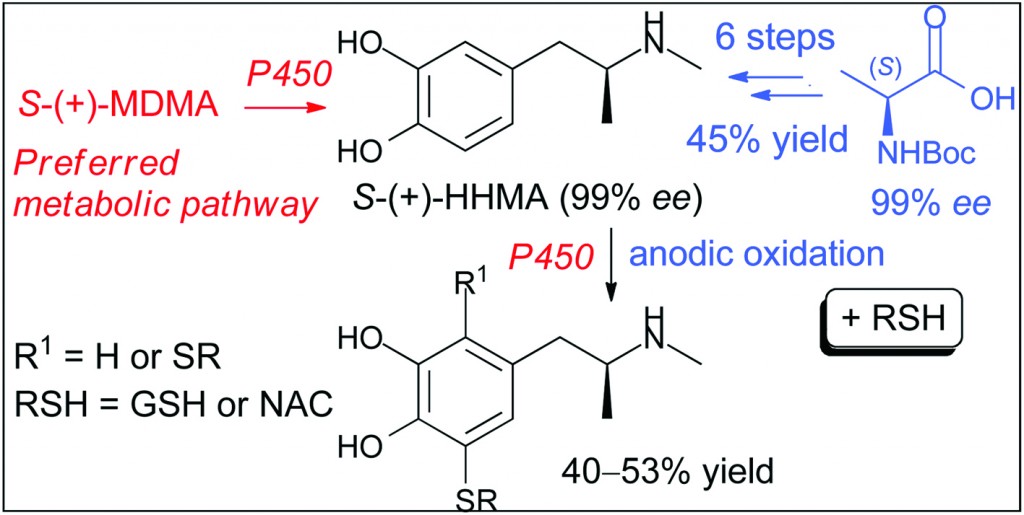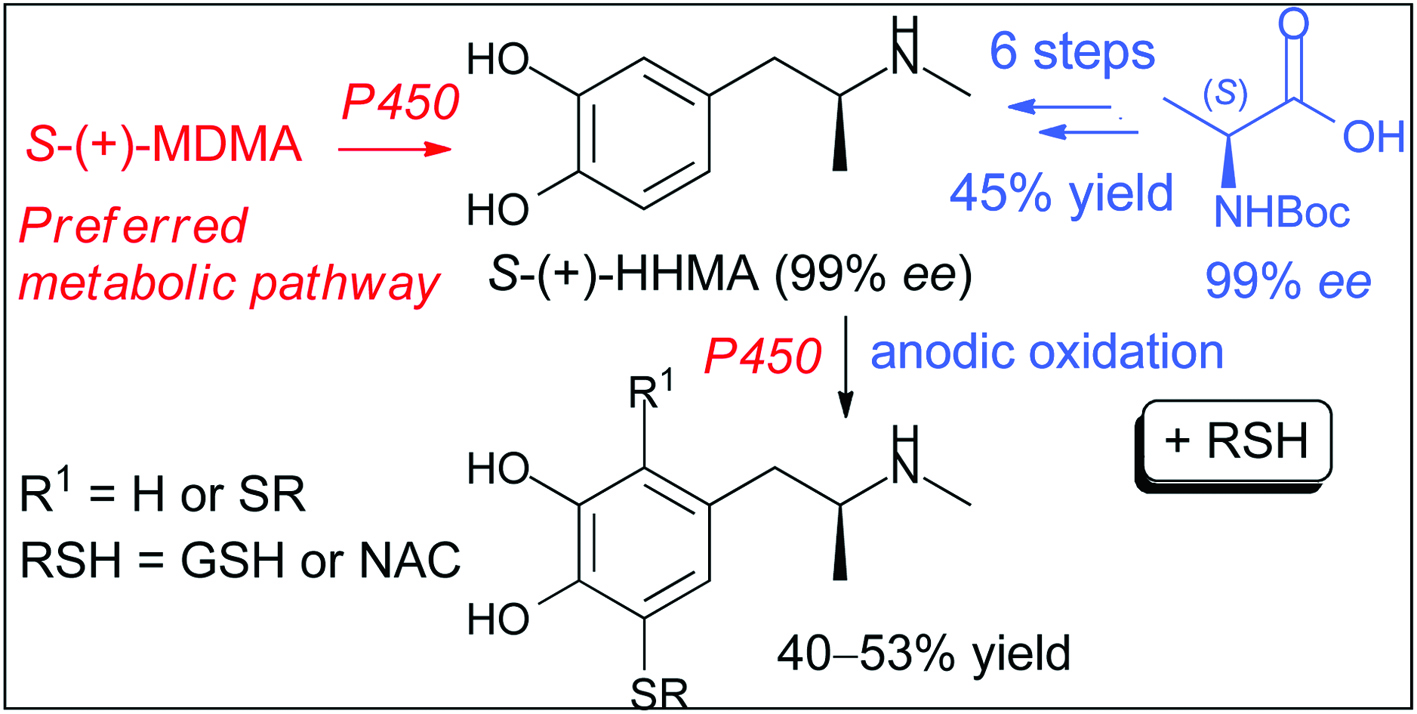 MDMA, also known as "ecstasy", is a psychoactive drug with selective neurotoxic potential toward brain serotonin neurons. Despite intensive research, the precise mechanism by which MDMA selectively damages brain neurons in most species remains unknown. One hypothesis is that MDMA neurotoxicity may at least partially be a consequence of its metabolism. In particular, O-demethylenated MDMA metabolites such as N-methyl-α-methyldopamine (HHMA) have been postulated to serve as precursors for toxic catechol–thioether conjugates.
As MDMA enantiomers have different pharmacological properties, it is reasonable to predict that the thioether conjugates of the HHMA enantiomers similarly display distinct neurotoxicity profiles. However, such studies have yet to be carried out because HHMA exists as a pair of enantiomers so its thioether conjugates exist as a mixture of diastereoisomers and current analytical and semipreparative methodologies for the diastereoisomeric separation of HHMA thioether conjugates only furnish small quantities of both diastereoisomers. Now, thanks to this work by Largeron et al. such studies can be undertaken.
As with all our HOT articles it is

free to access

for the next 4 weeks!
 A convenient biomimetic synthesis of optically active putative neurotoxic metabolites of MDMA ("ecstasy") from R-(−)- and S-(+)-N-methyl-α-methyldopamine precursors
Claire-Marie Martinez, Anne Neudörffer and Martine Largeron
Org. Biomol. Chem., 2012,
DOI: 10.1039/C2OB25245G