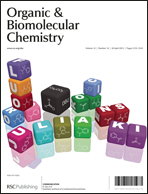 The outside front cover of this week's OBC is a communication from Barbara Zajcand colleagues at The City College and The City University of New York presenting a mild and efficient synthesis of 1-aryl-1-fluoroethenes from benzothiazolyl (aryl)fluoromethyl sulfones and paraformaldehyde, under DBU- or Cs2CO3-mediated conditions at room temperature.
Expedient synthesis of α-substituted fluoroethenes
Samir K. Mandal, Arun K. Ghosh, Rakesh Kumar and Barbara Zajc
Org. Biomol. Chem., 2012, 10, 3164–3167
DOI: 10.1039/C2OB07031F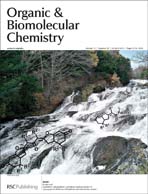 The inside front cover is work from Keisuke Kato et al. at Toho University on the cyclization–carbonylation–cyclization coupling reaction of γ-propynyl-1,3-diketones catalysed by palladium(II)-bisoxazoline complexes to give symmetrical ketones bearing two oxabicyclic groups in moderate to excellent yields.
Cyclization–carbonylation–cyclization coupling reaction of γ-propynyl-1,3-diketones with palladium(II)-bisoxazoline catalyst
Taichi Kusakabe, Yasuko Kawai, Rong Shen, Tomoyuki Mochida and Keisuke Kato
Org. Biomol. Chem., 2012, 10, 3192–3194
DOI: 10.1039/C2OB07016B
Also in this issue:
Review:
Recent advances and applications of iridium-catalysed asymmetric allylic substitution by Paolo Tosatti and co-workers
Hot articles:
Electrophilicity of α-oxo gold carbene intermediates: halogen abstractions from halogenated solvents leading to the formation of chloro/bromomethyl ketones
Weimin He, Longyong Xie, Yingying Xu, Jiannan Xiang and Liming Zhang
Highly enantioselective [4 + 2] cycloadditions of allenoates and dual activated olefins catalyzed by N-acyl aminophosphines
Hua Xiao, Zhuo Chai, Dongdong Cao, Hongyu Wang, Jinghao Chen and Gang Zhao
Enantioselective synthesis of fluorene derivatives by chiral N-triflyl phosphoramide catalyzed double Friedel–Crafts alkylation reaction
Shou-Guo Wang, Long Han, Mi Zeng,  Feng-Lai Sun, Wei Zhang and Shu-Li You
Hydrogen tunnelling influences the isomerisation of some small radicals of interstellar importance. A theoretical investigation
Tianfang Wang and John H. Bowie