In this HOT OBC paper Jun O. Liu and co-workers at Johns Hopkins University School of Medicine report structure–activity relationship studies of two oxines, which have been previously identified as hits in a high-throughput screen aimed at finding new anti-angiogenic agents, by characterising different analogues in human umbilical vein endothelial cell assays. In addition they have determined the effects of a subset of oxine derivatives on human methionine aminopeptidase and sirtuin 1 activities in endothelial cells and screened a selection of the potent inhibitors of human umbilical vein endothelial cells against two other malignant cells.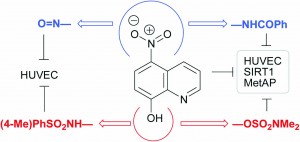 Through this they have been able to identify new oxine derivatives that exhibit improved inhibitory activity against endothelial cell proliferation, and furthermore, have made the surprising finding that subtle structural alterations can lead to dramatic changes in the mechanism of action of the resulting derivatives.
For all the in-depth details of this study check out this paper today! It's free to access for the next 4 weeks!
Substituted oxines inhibit endothelial cell proliferation and angiogenesis
Shridhar Bhat, Joong Sup Shim, Feiran Zhang, Curtis Robert Chong and Jun O. Liu
Org. Biomol. Chem.,  2012, 10, 2979–2992
DOI: 10.1039/C2OB06978D