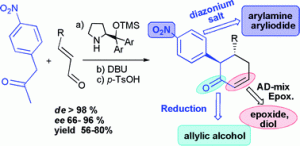 M. Belén Cid et al. at the Universidad Autonoma de Madrid, Spain, have devised a simple and efficient organocatalytic approach for the synthesis of alpha-aryl cyclohexenones and cyclohexanones, leading to ee up to 96% and complete diastereoselectivity, via a Michael addition and aldol reaction as key steps.

Highly rated by the reviewers and editorial office alike, this Hot Article will be FREE to access for the next 4 weeks.
This article is also part of a joint ChemComm & OBC web theme issue on Organocatalysis.
Keep checking this page as further articles are added to the web theme issue.
An organocatalytic approach to enantiomerically enriched α-arylcyclohexenones and cyclohexanones
Sara Duce, María Jorge, Inés Alonso, José Luis García Ruano and M. Belén Cid
Org. Biomol. Chem., 2011, Advance Article
DOI: 10.1039/C1OB06356A, Paper
From collection Organocatalysis