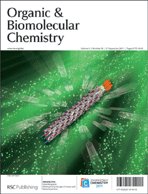 Welcome to Issue 18 of OBC!
On the cover is illustrated a Perspective article by Qian Wang and colleagues at the University of South Carolina, USA, which highlights some of the recent progress in the chemical modifications of bionanoparticles, finding uses as biosensors, electronic nanodevices, drug delivery agents and vaccine carriers, amongst others.
This cover article is FREE to access for a period of 6 weeks. Why not take a look now?
Altering the landscape of viruses and bionanoparticles
L. Andrew Lee, Huong Giang Nguyen and Qian Wang
Org. Biomol. Chem., 2011, DOI: 10.1039/C1OB05700F