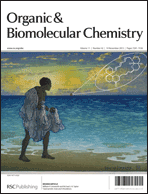 Organic & Biomolecular Chemistry, our sister journal, publishes many articles that cover a variety of natural product chemistry.
We try to keep you updated here, although your best bet is for you to sign up to OBC's e-alert (free service), and receive the tables of content directly in your inbox every time an issue is published.
Hand-picked for you from the latest issues are:
Construction of the basic skeleton of ophiobolin A and variecolin
Ke Li, Cheng Wang, Gang Yin and Shuanhu Gao
Org. Biomol. Chem., 2013,11, 7550-7558
DOI: 10.1039/C3OB41693C
Effective synthesis of kynurenine-containing peptides via on-resin ozonolysis of tryptophan residues: synthesis of cyclomontanin B
Clarence T. T. Wong, Hiu Yung Lam and Xuechen Li
Org. Biomol. Chem., 2013,11, 7616-7620
DOI: 10.1039/C3OB41631C
Characterization of CYP76AH4 clarifies phenolic diterpenoid biosynthesis in the Lamiaceae
Jiachen Zi and Reuben J. Peters
Org. Biomol. Chem., 2013,11, 7650-7652
DOI: 10.1039/C3OB41885E
Synthesis of integerrimide A by an on-resin tandem Fmoc-deprotection–macrocyclisation approach
Sirirat Kumarn, Nitirat Chimnoi and Somsak Ruchirawat
Org. Biomol. Chem., 2013,11, 7760-7767
DOI: 10.1039/C3OB41447G
Enantioselective total synthesis of macrolide (+)-neopeltolide
Arun K. Ghosh, Khriesto A. Shurrush and Zachary L. Dawson
Org. Biomol. Chem., 2013,11, 7768-7777
DOI: 10.1039/C3OB41541D
We hope you enjoy this selection! Let us know what you think…
… and why not submit your latest natural product research to OBC today?