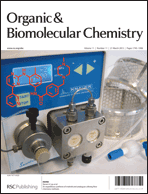 Organic & Biomolecular Chemistry, our sister journal, publishes many articles that cover a variety of natural product chemistry.
We try to keep you updated here, although your best bet is for you to sign up to OBC's e-alert (free service), and receive the tables of content directly in your inbox every time an issue is published.
Hand-picked for you from the latest issues are:
Upenamide: trials and tribulations
William P. Unsworth and Richard J. K. Taylor
Org. Biomol. Chem., 2013,11, 7250-7261
DOI: 10.1039/C3OB41519H
Enantioselective synthesis of encecaline-derived potent antimalarial agents
Dipak Harel, Dirk Schepmann, Reto Brun, Thomas J. Schmidt and Bernhard Wünsch
Org. Biomol. Chem., 2013,11, 7342-7349
DOI: 10.1039/C3OB41583J
How a diversity-oriented approach has inspired a new hypothesis for the gabosine biosynthetic pathway. A new synthesis of (+)-gabosine C
Miguel Ángel Fresneda, Ramon Alibés, Josep Font, Pau Bayón and Marta Figueredo
Org. Biomol. Chem., 2013,11, 6562-6568
DOI: 10.1039/C3OB41183D
Synthesis of a C1–C11 fragment of Zincophorin using planar chiral, neutral π-allyl iron complexes  
John P. Cooksey  
Org. Biomol. Chem., 2013, 11, 5117-5126
DOI: 10.1039/C3OB40894A
First synthesis of antitumoral dasyscyphin B
Ali Akhaouzan, Antonio Fernández, Ahmed I. Mansour, Esteban Alvarez, Ali Haidöur, Ramón Alvarez-Manzaneda, Rachid Chahboun and Enrique Alvarez-Manzaneda
Org. Biomol. Chem., 2013,11, 6176-6185
DOI: 10.1039/C3OB41290C
Doubly prenylated tryptamines: cytotoxicity, antimicrobial activity and cyclisation to the marine natural product flustramine A
Santosh Kumar Adla, Florenz Sasse, Gerhard Kelter, Heinz-Herbert Fiebig and Thomas Lindel
Org. Biomol. Chem., 2013,11, 6119-6130
DOI: 10.1039/C3OB40896E
Approach to the functionalized cyclopentane core of marine prostanoids by applying a radical cyclization of β-disubstituted acrylates
Lisa P. T. Hong, Christopher Chak and Christopher D. Donner
Org. Biomol. Chem., 2013,11, 6186-6194
DOI: 10.1039/C3OB41263F
We hope you enjoy this selection! Let us know what you think…
… and why not submit your latest natural product research to OBC today?