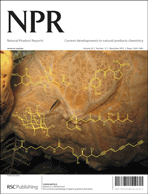 Welcome to NPR Issue 12, 2012
This month sees the work of Roberto Berlinck et al. on the cover, with a review showcasing naturally occurring guanidine compounds. Spanning natural guanidines from terrestrial, marine and freshwater microorganisms, marine invertebrates, sponges, or higher plants, the article highlights the newly isolated compounds along with their synthesis and biological properties.
The chemistry and biology of organic guanidine derivatives
Roberto G. S. Berlinck, Amaro E. Trindade-Silva and Mario F. C. Santos
This is the latest review on the topic, however this area is updated regularly. Why not also read some of the previous editions of this review, covering the time periods 2005/07, 2008/09.
Issue 12 also features the latest Hot of the Press, and reviews covering:
The impact of the United Nations Convention on Biological Diversity on natural products research
Gordon M. Cragg, Flora Katz, David J. Newman and Joshua Rosenthal
DOI: 10.1039/C2NP20091K
Investigations of the marine flora and fauna of the Fiji Islands
Klaus-Dieter Feussner, Kavita Ragini, Rohitesh Kumar, Katy M. Soapi, William G. Aalbersberg, Mary Kay Harper, Brad Carte and Chris M. Ireland
DOI: 10.1039/C2NP20055D
Ursane-type pentacyclic triterpenoids as useful platforms to discover anticancer drugs
Jorge A. R. Salvador, Vânia M. Moreira, Bruno M. F. Gonçalves, Ana S. Leal and Yongkui Jing
DOI: 10.1039/C2NP20060K
We hope you enjoy the issue!
And why not publish with us too? If you are interested in writing an article for NPR, please contact us at the editorial office.