Welcome to NPR issue 10, 2012
As an NPR reader, you will surely have noticed the numerous and exciting structural biosynthesis related articles that have appeared in the journal recently… 
Well, now is time to unveil the full themed issue entitled 'Structural Aspects of Biosynthesis' , where you will find all of these articles grouped together for an intellectual feast.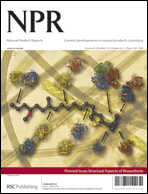 Guest edited by Profs Sheryl Tsai (UC Irvine, USA), Bradley Moore (UC San Diego, USA) and Sarah O'Connor (John Innes Center, UK), read their Editorial for an introduction to the issue. 
Featuring 11 Reviews by leaders in their fields, the issue covers: 
Polyketide synthases
Non-ribosomal peptide synthetases
Plant natural product biosynthesis
Structural progress of bacterial enzymes in biosynthesis
P450 enzymes for natural product modification, towards metabolic engineering
Janet L. Smith et al. (University of Michigan, Ann Arbor) have designed the artwork featuring on the cover of the issue, illustrating their review on the structural biology of marine polyketide synthases. The cover article will be FREE to access for a period of 6 weeks: 
Insights from the sea: Structural biology of marine polyketide synthases
David L. Akey, Jennifer J. Gehret, Dheeraj Khare and Janet L. Smith
Nat. Prod. Rep., 2012, 29, 1038-1049
DOI: 10.1039/C2NP20016C 
We hope you enjoy the issue! 
Let us know what you think by leaving a comment below. 
Also, why not view our previous thematic collections? Access all NPR themed issues here.