We welcome you to NJC's December issue out now. This month again NJC publishes high-quality, original and significant research works in the areas of supramolecular chemistry, organometallic chemistry, catalysis, nanostructures, material sciences, electrochemistry, sensing, synthetic chemistry, crystallographic engineering and much more.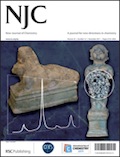 The outside front cover highlights our latest article by Annarosa Mangone et al. (University of Bari, Italy) that was aimed at defining the compositional and structural characteristics of a group of monochrome blue faiences recovered in Pompeii to assess provenance on the basis of their technological features. The data obtained by the joint usage of different complementary analytical techniques provided detailed diagnostic information, useful for enriching the knowledge of the technological-productive aspects of Roman ceramics, and led to interesting archaeometric and archaeological results.
A multianalytical study of archaeological faience from the Vesuvian area as a valid tool to investigate provenance and technological features by Annarosa Mangone, Giuseppe Egidio De Benedetto, Daniela Fico, Lorena Carla Giannossa, Rocco Laviano, Luigia Sabbatini, Inez Dorothé van der Werf and Angela Traini; New J. Chem., 2011, 35, 2860-2868; DOI: 10.1039/C1NJ20626E.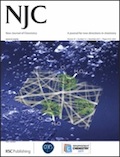 NJC issue 12, 2011 inside front cover was produced by Dr Sophie Tingry and co-workers (University of Montpelier II). In this research article, the authors describe novel approach towards electrospun carbon nanofibers (CNFs) through electrospinning and thermal carbonization treatment. The intensified current density achieved at the CNFs modified bioelectrode suggests that CNFs are promising candidates for improving the catalytic oxygen reduction at enzymatic cathodes. The simple and facile procedure makes the CNFs electrode a promising prospect in developing bioelectrochemical devices.
Fabrication of free-standing electrospun carbon nanofibers as efficient electrode materials for bioelectrocatalysis by Ai-Fu Che, Vincent Germain, Marc Cretin, David Cornu, Christophe Innocent and Sophie Tingry; New J. Chem., 2011, 35, 2848-2853. DOI: 10.1039/C1NJ20651F.
You can access and read the whole issue 12 of NJC here. Leave us a comment and let us know what you think!