In this collaborative work from the universities of Toulouse and Montpellier (France), Lionel Salmon, Azzedine Bousseksou and co-workers have built on their development of synthetic routes to spin crossover compound (SCO) nanoparticles, to investigate the structure-property relashionships of the various nano-objects morphologies, be it as dispersed colloids, fibrous structures or nanoparticle powders.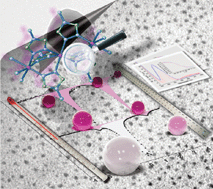 Amongst other findings, their work now shows that the cooperativity of spin crossover transition does not require that the complex is in solid state, and that even ultra-small (down to 3 nm) spin crossover nanoparticles can exhibit a cooperative transition, offering interesting perspectives for practical applications of SCO compounds.
Interested in reading further? Why not download the full article now, FREE to access for a period of 4 weeks!
Synthesis of spin crossover nano-objects with different morphologies and properties
Alexey Tokarev, Lionel Salmon, Yannick Guari, Gábor Molnár and Azzedine Bousseksou
New J. Chem., 2011, Advance Article, DOI: 10.1039/C1NJ20218A, Paper
This article will be part of the themed issue of NJC honouring the life and work of Prof. Didier Astruc, on the occasion of his 65th birthday – Coming soon.