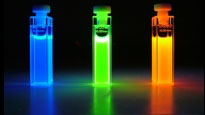 NJC is proud to be sponsoring the 19th International Symposium on the Photophysics and Photochemistry of Coordination Compounds – taking place in Strasbourg (France) from 3rd to 7th July 2011.
We are also delighted to be able to sponsor a Poster prize and a Scholarship for students which will be awarded at the conference.


The meeting will be featuring 16 plenary and invited lectures by internationally distinguished scientists, and over 40 contributed talks, covering the most recent developments on topics including:
Photophysics
Light emitting molecular materials
Biosystems
Light driven systems for energy purposes
Coordination photochemistry
I will be in attendance so please do have a chat with me if you are also there, I'd love to hear from you!