While a relatively large number of [2]-rotaxanes, in which a ring is threaded by an axle, have been reported in the literature, [3]-rotaxanes (where two macrocyclic rings are able to move along the axis on which they are threaded in a controlled fashion) and [4]-rotaxanes (where 3 macrocycles are threaded on the axle) still prove a real synthetic challenge.
In this NJC Letter, the group of J.-P. Sauvage (Strasbourg, France) provide insights on the successful preparation of multirotaxanes, and synthesize a [2]-, a [3]- and a [4]-rotaxane in the same reaction.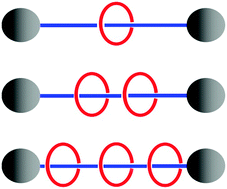 …Interested?
Find out how, and read on the synthetic route envisioned by this leading group by accessing the full article now!
Article FREE to access until 20th June.



Synthesis of [2]-, [3]-, and [4]rotaxanes whose axis contains two bidentate and two tridentate chelates, Jean-Paul Collin, Stéphanie Durot, Jean-Pierre Sauvage and Yann Trolez
New J. Chem., 2011, Advance Article
DOI: 10.1039/C1NJ20213H



This article will be part of the themed issue of NJC honouring the life and work of Prof. Didier Astruc, on the occasion of his 65th birthday – Coming soon.