In this hot article, Jonathan S. Lindsey and colleagues have looked at the hypothetical pre-biotic synthesis of tetrapyrroles and designed an enzyme free synthesis of nature's universal precursor to the 'pigments of life' (corrins, heme, chlorophylls), in which the abiotic reaction under mild conditions of δ-aminolevulinic acid and the dione shown gives uroporphyrinogen.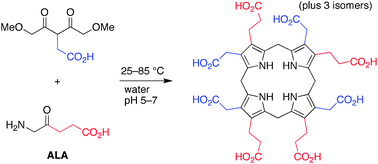 Abiotic formation of uroporphyrinogen and coproporphyrinogen from acyclic reactants, Jonathan S. Lindsey, Vanampally Chandrashaker, Masahiko Taniguchi and Marcin Ptaszek, New J. Chem., 2011, Advance Article, DOI: 10.1039/C0NJ00716A, Paper
Curious about porphyrinoids, prebiotic chemistry and the origins of life? Then why not read the article for free until 7th January 2011 and let us know your thoughts and comments below.