So. We take the articles that get the highest scores during peer review and we make them HOT. Then we send that shortlist to the Lab on a Chip Editor to choose the Top 10%. These papers demonstrate breakthroughs in device technology or methodology, or demonstrate important new results.
Today we add three more to the Top 10% collection!
Frontier Article
Elevating sampling, Joseph M. Labuz and Suichi Takayama, DOI: 10.1039/C4LC00125G
Does the effectiveness of sample preparation stand in the way of demonstrating new technology? This article highlights recent successes as well as assesses current challenges and opportunity in the area of sample collection and prep in micro- and nanofluidics.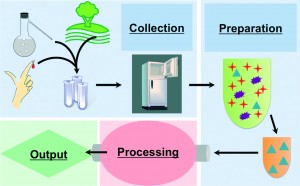 Research Paper
Influenza A virus-specific aptamers screened by using an integrated microfluidic system, Hsien-Chih Lai, Chih-Hung Wang, Tong-Miin Liou and Gwo-Bin Lee, DOI: 10.1039/C4LC00187G
Early and rapid diagnosis of the influenza A virus is crucial in preventing and controlling outbreaks. In this paper, a microfluidic system was used to screen an aptamer for the influenza virus, in an automated and highly efficient manner.
Focus Article
Patent protection and licensing in microfluidics, Ali K. Yetisen and Lisa R. Volpatti, DOI: 10.1039/C4LC00399C
Is your microfluidic device ready for a patent? Authors aim to overview the terminology in patent law, describe the process of filing for a patent, discuss strategies for licencing a patent and explain tactics to defend an existing patent.