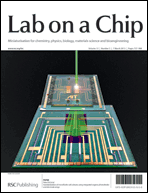 The front cover of Issue 5 illustrates work from Peter Ertl and colleagues at AIT, Austria, in which they combine organic photodiodes and electrode structures in a lab on a chip to develop the ability to quickly determine cell number to standardise microfluidic cell culture and simultaneously measure cell adhesion and interactions.
Standardization of microfluidic cell cultures using integrated organic photodiodes and electrode arrays
Verena Charwat, Michaela Purtscher, Sandro F. Tedde, Oliver Hayden and Peter Ertl
DOI: 10.1039/C2LC40965H
---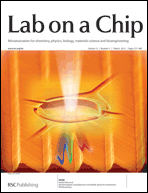 Research by scientists at the
National Research Council
and
McGill University
, Canada, features on the striking inside front cover.
Teodor Veres and co-workers take a step towards the development of point-of-care nanoplasmonic biosensors with their all-polymeric transmission surface plasmon resonance sensor. It uses a simple and widely available technique and they demonstrate its application in sensing glycoprotein sCD44 at picomolar to nanomolar concentrations.
All-thermoplastic nanoplasmonic microfluidic device for transmission SPR biosensing
Lidija Malic, Keith Morton, Liviu Clime and Teodor Veres
DOI: 10.1039/C2LC41123G
---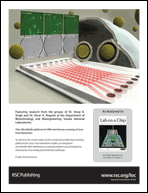 The back cover advert highlights research from the groups of Anup Singh and Oscar Negrete at
Sandia National Laboratories
, USA
, on their advantageous microfluidic RNA interference screening method, which they validate using vesicular stomatitis virus and Rift Valley fever virus.
Microfluidic platforms for RNA interference screening of virus–host interactions
Benjamin R. Schudel, Brooke Harmon, Vinay V. Abhyankar, Benjamin W. Pruitt, Oscar A. Negrete and Anup K. Singh
DOI: 10.1039/C2LC41165B
---
This issue also features Research highlights from
Ali Khademhosseini
on biomimetic honeycombs, microfluidic vessel chips and BioMEMS, and a critical review written by
Andrew deMello and Dirk van Swaay at ETH Zurich
on the microfluidic technologies available for producing liposomes:
Research highlights
Gulden Camci-Unal, Šeila Selimović, Mehmet R. Dokmeci and Ali Khademhosseini
DOI: 10.1039/C3LC90002A
Microfluidic methods for forming liposomes
Dirk van Swaay and Andrew deMello
DOI: 10.1039/C2LC41121K