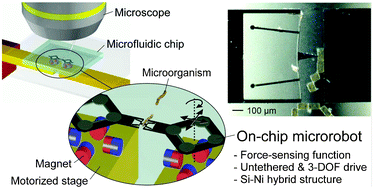 In this HOT Lab on a Chip article, Daniel Kohane, Robert Langer and Michinao Hashimoto demonstrate a simple method of producing microchannels on the benchtop using polymers other than the popular PDMS.
Alternative polymers to PDMS have been previously shown to have better compatibility with organic solvents, making microfluidic channels more open to different solvents and applications.  Often PDMS surfaces are modified with more solvent-resistant materials such as glass, requiring modification of the channel dimensions. Using these more resistant materials without PDMS usually means a more involved and complex process.
This paper increases the range of materials that can be used in benchtop fabrication of microchannels, using PDMS as a base to support the polymer film.  They first carry out molding, making patterns of microchannels on the polymer film. The PDMS-supported polymer is then released and then an additional polymer surface can be added to create a closed channel.
Importantly, they show that SU-8 epoxy can be used with this method. It has been used before to make microchannels, but, as mentioned above, the methods required were more complex, needing a cleanroom for each layer of micropatterning. This approach means that SU-8 microchannels can be much more easily and quickly produced using benchtop replica molding.
All of our HOT articles are free to access for 4 weeks*, so click on the link below to read this one today:
Benchtop fabrication of microfluidic systems based on curable polymers with improved solvent compatibility
Michinao Hashimoto, Robert Langer and Daniel S. Kohane
DOI: 10.1039/C2LC40888K
*Free access to individuals is provided through an RSC Publishing personal account. Registration is quick, free and simple