Energy & Environmental Science (EES) is delighted to welcome Professor Dan Wang as an Advisory Board member.
Dan Wang is a professor at the Institute of Process Engineering, Chinese Academy of Sciences. His research focuses on the design and synthesis of porous, layered and nano-structured materials and their applications in energy storage and generation and environmentally friendly catalysts. His interests include dye sensitized solar cells, photocatalysts, lithium ion batteries, and other energy applications.
On behalf of Dan Wang and the Editor-in-Chief Nathan Lewis (Caltech) we invite you to submit your best research to Energy & Environmental Science.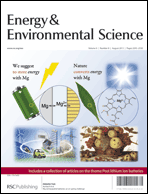 EES publishes outstanding, community-spanning, agenda-setting research covering all aspects of energy and environmental research. With an Impact Factor of 11.65, which is rising fast, it the ideal place to publish your work.
So you can see for yourself the quality of work in EES, we have collected together some recent articles in Prof. Wang's exciting research fields, with a selection available to read for free for a limited period
Reviews
FREE: Recent advances in micro-/nano-structured hollow spheres for energy applications: From simple to complex systems
Xiaoyong Lai, Jonathan E. Halpert and Dan Wang
Energy Environ. Sci., 2012,5, 5604-5618
DOI: 10.1039/C1EE02426D
FREE: 3D carbon based nanostructures for advanced supercapacitors
Hao Jiang, Pooi See Lee and Chunzhong Li
Energy Environ. Sci., 2013, 6, 41-53
DOI: 10.1039/C2EE23284G
FREE: Semiconductor nanowires: a platform for exploring limits and concepts for nano-enabled solar cells
Thomas J. Kempa, Robert W. Day, Sun-Kyung Kim, Hong-Gyu Park and Charles M. Lieber
Energy Environ. Sci., 2013, 6, 719-733
DOI: 10.1039/C3EE24182C
FREE: Highly efficient dye-sensitized solar cells: progress and future challenges
Shufang Zhang, Xudong Yang, Youhei Numata and Liyuan Han
DOI: 10.1039/C3EE24453A
Original research
One dimensional CuInS2–ZnS heterostructured nanomaterials as low-cost and high-performance counter electrodes of dye-sensitized solar cells
Luoxin Yi, Yuanyuan Liu, Nailiang Yang, Zhiyong Tang, Huijun Zhao, Guanghui Ma, Zhiguo Su and Dan Wang
DOI: 10.1039/C3EE24176A
Uniform V2O5 nanosheet-assembled hollow microflowers with excellent lithium storage properties
An Qiang Pan, Hao Bin Wu, Lei Zhang and Xiong Wen (David) Lou
DOI: 10.1039/C3EE40260F
Facile synthesis of Au@TiO2 core–shell hollow spheres for dye-sensitized solar cells with remarkably improved efficiency
Jiang Du, Jian Qi, Dan Wang and Zhiyong Tang
DOI: 10.1039/C2EE21264A
Low-temperature processed meso-superstructured to thin-film perovskite solar cells
James M. Ball, Michael M. Lee, Andrew Hey and Henry J. Snaith
DOI: 10.1039/C3EE40810H
Controlled synthesis of hierarchical CoxMn3−xO4 array micro-/nanostructures with tunable morphology and composition as integrated electrodes for lithium-ion batteries
Le Yu, Lei Zhang, Hao Bin Wu, Genqiang Zhang and Xiong Wen (David) Lou
DOI: 10.1039/C3EE41181H
New materials based on a layered sodium titanate for dual electrochemical Na and Li intercalation systems
Mona Shirpour, Jordi Cabana and Marca Doeff
DOI: 10.1039/C3EE41037D
Hierarchical hollow spheres composed of ultrathin Fe2O3 nanosheets for lithium storage and photocatalytic water oxidation
Jixin Zhu, Zongyou Yin, Dan Yang, Ting Sun, Hong Yu, Harry E. Hoster, Huey Hoon Hng, Hua Zhang and Qingyu Yan
DOI: 10.1039/C2EE24148J
Controlled fabrication of ultrathin-shell BN hollow spheres with excellent performance in hydrogen storage and wastewater treatment
Gang Lian, Xiao Zhang, Shunjie Zhang, Duo Liu, Deliang Cui and Qilong Wang
DOI: 10.1039/C2EE03240F
Control of the nanoscale crystallinity in mesoporous TiO2 shells for enhanced photocatalytic activity
Ji Bong Joo, Qiao Zhang, Michael Dahl, Ilkeun Lee, James Goebl, Francisco Zaera and Yadong Yin
DOI: 10.1039/C1EE02533C
Shape-tailored TiO2 nanocrystals with synergic peculiarities as building blocks for highly efficient multi-stack dye solar cells
Luisa De Marco, Michele Manca, Roberto Giannuzzi, Maria R. Belviso, P. Davide Cozzoli and Giuseppe Gigli
DOI: 10.1039/C3EE24345A
A facile approach for the synthesis of monolithic hierarchical porous carbons – high performance materials for amine based CO2 capture and supercapacitor electrode
Luis Estevez, Rubal Dua, Nidhi Bhandari, Anirudh Ramanujapuram, Peng Wang and Emmanuel P. Giannelis
DOI: 10.1039/C3EE40549D
Optimized porous rutile TiO2 nanorod arrays for enhancing the efficiency of dye-sensitized solar cells
Miaoqiang Lv, Dajiang Zheng, Meidan Ye, Jing Xiao, Wenxi Guo, Yuekun Lai, Lan Sun, Changjian Lin and Juan Zuo
DOI: 10.1039/C3EE24125D
Improved hydrogen storage performance of Ca(BH4)2: a synergetic effect of porous morphology and in situ formed TiO2
Jian Gu, Mingxia Gao, Hongge Pan, Yongfeng Liu, Bo Li, Yanjing Yang, Chu Liang, Hongliang Fu and Zhengxiao Guo
DOI: 10.1039/C2EE24121H
For more information and news visit our website and blog, or follow us on Facebook and Twitter.