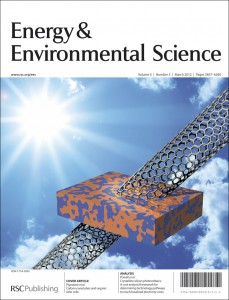 The latest issue of Energy & Environmental Science is now online. You can read the full issue here.
The outside front cover features a Perspective review article on Carbon nanotubes and organic solar cells by Sebastiano Cataldo, Patrizio Salice, Enzo Menna and Bruno Pignataro.
Issue 3 contains a mix of Analysis, reviews and original research, here are just a few to highlight:
Analysis
Crystalline silicon photovoltaics: a cost analysis framework for determining technology pathways to reach baseload electricity costs
D. M. Powell ,  M. T. Winkler ,  H. J. Choi ,  C. B. Simmons ,  D. Berney Needleman and T. Buonassisi
Review
Recent advances in hybrid photocatalysts for solar fuel production   
Phong D. Tran ,  Lydia H. Wong ,  James Barber and Joachim S. C. Loo
Perspectives
Emerging concepts in solid-state hydrogen storage: the role of nanomaterials design
Hazel Reardon ,  James M. Hanlon ,  Robert W. Hughes ,  Agata Godula-Jopek ,  Tapas K. Mandal and Duncan H. Gregory
Recent advances in solution-processed interfacial materials for efficient and stable polymer solar cells 
Hin-Lap Yip and Alex K.-Y. Jen
Fancy submitting an article to EES? Then submit to us today!