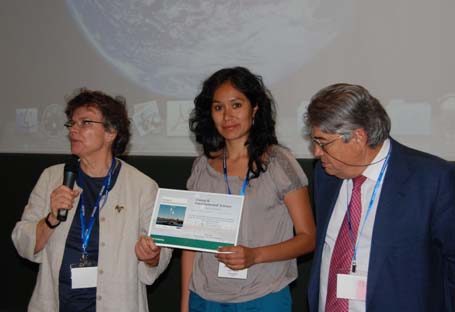 RSC Publishing was delighted to award three PhD Poster Prizes at the recent International Conference on Carbon Dioxide Utilization (ICCDU XI) held in June 2011, Dijon, France.
The winners were presented with RSC Prize certificates and either a free subscription to the journal or a financial award.
RSC Publishing journals will be awarding further Poster Prizes over the summer so watch this space!
The prize winners at ICCDU were:
Energy & Environmental Science Award:
Isabel VILLAFÁN-VIDALES
Title: THERMOCHEMICAL CO2 SPLITTING BASED ON FE3O4/FEO REDOX REACTIONS USING CONCENTRATED SOLAR ENERGY
Stéphane ABANADES and H. Isabel VILLAFÁN-VIDALES (CNRS-PROMES, France)
Green Chemistry Award:
Stephanie WILSON
Title: COUPLING REACTIONS OF CO2 AND UNEXPLORED EPOXIDES : POLYCARBONATE VS. CYCLIC CARBONATE FORMATION
Stephanie WILSON and Donald J. DARENSBOURG (Department of Chemistry, Texas A&M University, USA)
Journal of Materials Chemistry Award:
Mohd Bismillah ANSARI
Ttle: TRIAZINE BASED POROUS FRAMEWORKS FOR METAL FREE CO2 ACTIVATION
Mohd Bismillah ANSARI and Sang-Eon PARK (Department of Chemistry, Inha University, Republic of Korea)
Energy & Environmental Science and Green Chemistry will also be publishing a special web-theme collection of articles from the ICCDU conference.
Sign-up to the free e-alerts and newsletter to hear about the latest research published on CO2 utilization.