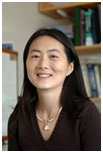 Energy & Environmental Science is delighted to welcome three new members to its Advisory Board:
Yang Shao-Horn (MIT, USA)
Materials for Electrochemical Energy Conversion and Storage (Batteries and Fuel Cells); Thermodynamics and Kinetics of Electrochemical Reactions
Chang-jun Liu (Tianjin, China)
Catalysis; Utilization of Greenhouse Gases; Natural Gas Conversion; Plasma Chemical Processing for Energy; Fuels and Environment
We welcome them all to the Board and look forward to working with them over the coming months and years.
Read some of their latest Energy & Environmental Science articles:
Nanostructured carbon-based electrodes: bridging the gap between thin-film lithium-ion batteries and electrochemical capacitors
Seung Woo Lee, Betar M. Gallant, Hye Ryung Byon, Paula T. Hammond and Yang Shao-Horn
Energy Environ. Sci., 2011, Advance Article, Perspective
Promotion effects of Ga2O3 on CO2 adsorption and conversion over a SiO2-supported Ni catalyst
Yun-xiang Pan, Pingyu Kuai, Yuan Liu, Qingfeng Ge and Chang-jun Liu
Energy Environ. Sci., 2010, 3, 1322-1325
Energy levels, charge injection, charge recombination and dye regeneration dynamics for donor–acceptor π-conjugated organic dyes in mesoscopic TiO2 sensitized solar cells
Miquel Planells, Laia Pellejà, John N. Clifford, Mariachiara Pastore, Filippo De Angelis, Núria López, Seth R. Marder and Emilio Palomares
Energy Environ. Sci., 2011, 4, 1820-1829
See who else is on the Energy & Environmental Science Advisory and Editorial Boards.
New Scientific Editors

We are also pleased to announce that Emilio Palomares, alongside Editorial Board member Peng Wang (CIAC, China), will also act as Scientific Editors for Energy & Environmental Science. They will have the special responsibility of providing additional support and advice to the Cambridge Editorial Office regarding submissions in the area of molecular solar conversion.
Submit your latest research to Energy & Environmental Science today!