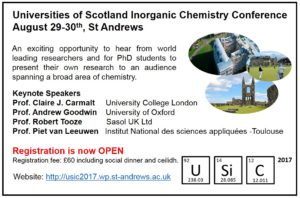 Registration is now open for the Universities of Scotland Inorganic Chemistry Conference (USIC) 2017. The conference brings together inorganic chemistry postgraduates from Scottish universities along with Newcastle and Durham. This year the conference is to be held over two days, 29th – 30th August at the University of St Andrews.
Featuring keynote speakers:
Professor Claire J. Carmalt, University College London
Professor Andrew Goodwin, University of Oxford
Professor Robert Tooze, Sasol UK Ltd
Professor Piet van Leeuwen, Institut National des sciences appliquées -Toulouse
There are also a number of speaking slots available to student delegates, as well as the opportunity to share research in the form of a poster presentation.
Extended Abstract Submission Deadline: 31st July
For more information, visit the website at: http://usic2017.wp.st-andrews.ac.uk/