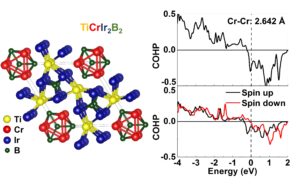 Left: Crystal structure of spin frustrated TiCrIr2B2 with Cr3 triangles and trigonal planar B4 unites.

Right: No-spin polarized (top) and spin polarized (bottom) crystal orbital Hamilton population (COHP) curves for Cr−Cr interaction in TiCrIr2B2.
Congratulations to the Poster Prize winner at the University of California Chemical Symposium (UCCS): Yuemei Zhang. Yuemei is currently working in the group of Boniface Fokwa at the University of California Riverside. Her poster was entitled "Magnetic Ordering, Frustration and Possible Spin Liquid State from 1D Cr3-Triangles in the TiCrIr2-xOsxB2 Series".
The meeting was supported by ten UC departments (UC Davis, UCLA, UC San Diego, UC Berkeley, UC Riverside, UC Santa Cruz, UC Irvine, UC Santa Barbara, UC Merced, and UC San Francisco). All areas of chemistry, including inorganic, organic, biological, analytical and physical chemistry were represented and the symposium provided an excellent opportunity for graduate students and postdocs to not only present their work in a multidisciplinary environment, but also take part in different workshops to further their career and establish connections with professionals from industry, government and alternative science jobs.
The prize was presented by the RSC Editorial Development Manager, Americas, Dr Jennifer Griffiths.