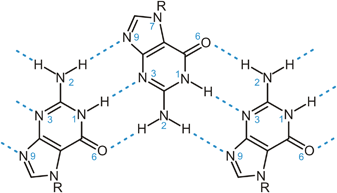 Bernhard Lippert and colleagues have followed up on their previous Dalton Transactions article with further insights into the coordination of guanine to a platinum centre.
The team's goal is to create platinated nucleobase analogues capable of recognising natural DNA. However, due to the many potential tautomeric forms of guanine, more questions on the hydrogen bonding of these Pt-guanine complexes need to be answered.
In their latest Dalton Transactions article, Lippert and co-workers discuss the solution and solid state behaviour of 7-methylguanine and determine if the Pt complex is able to recognise 1-methylcytosine through Watson–Crick base pairing.
See what they found out by downloading the HOT article now – it's free to access until 26th March.
7-Methylguanine: protonation, formation of linkage isomers with trans-(NH3)2PtII, and base pairing properties
Ágnes Kozma, Susana Ibáñez, Radu Silaghi-Dumitrescu, Pablo J. Sanz Miguel, Deepali Gupta and Bernhard Lippert
To read their previous article…
Pt(II) complexes of unsubstituted guanine and 7-methylguanine
Deepali Gupta, Ralf Nowak and Bernhard Lippert, Dalton Trans., 2010, 39, 73–84